November 2016: John Simpson-Porco
John W. Simpson-Porco is a Ph.D. Candidate in the Department of Mechanical Engineering at UCSB, studying under advisor Professor Francesco Bullo. His research is centered around the stability and control of multi-agent systems and complex dynamic networks, focusing on modernized electric power grids. John earned his Bachelor's degree in Engineering Physics from Queen's University in Kingston, Ontario
Recently John won the Peter J. Frenkel Foundation Fellowship. This fellowship is awarded to a student who exhibits exceptional graduate research in energy and energy efficiency and who has advanced to doctoral candidacy. Advisor Francesco Bullo nominated John for his outstanding work on electric power system controls that help ensure network stability and efficient system performance.
John will be starting as an assistant professor in the ECE Department at the University of Waterloo in April, 2016.  Currently his goal is to develop an analytical theory of power system stability for on-line control use and optimization algorithms. He would like to collaborate with industry to refine this theory and make it more widely applicable.  In his free time, John enjoys playing the guitar, enjoying Santa Barbara's eateries and nightlife, and playing basketball with his friend and colleagues.
October 2016: Chelsea Lau

Chelsea Lau earned her Bachelor's degree in Electrical Engineering from the University of Hawaii at Mānoa. Currently she is part of Professor Katie Byl's lab at UCSB where her research focuses on motion planning for legged robots.
Recently Chelsea and the robotics team competed in the DARPA Robotics Competition where they placed 5th. The competition was designed to simulate a rescue situation in which a disaster took place that makes human intervention too dangerous. The robots were put through a series of both announced and surprise tasks, having to navigate an obstacle course. The Byl lab partnered with Jet Propulsion Laboratory (JPL), who created their entry for the competition, a quadruped robot with spider-like limbs and an ape-like body named RoboSimian. RoboSimian was one of only two robots to not require human intervention and navigated the obstacle course in just under 48 minutes. Chelsea's job was to help write the software to control how the robot would move.
Currently Chelsea is continuing research on a motion planner that will better help robots, RoboSimian in particular, navigate over rough terrain, especially in situations where communication is limited. She is also looking at developing methods to ensure smooth joint trajectories that obey dynamic constraints for locomotion. These methods will improve the quality and reliability of low-level trajectory planning in the motion planner.
Chelsea is also part of the IEEE-Eta Kappa Nu, the honor society of IEEE, which is dedicated to "encouraging and recognizing individual excellence in education", among other areas of interest to IEEE. She plans on continuing research here at UCSB to obtain her Ph.D. in Electrical Engineering.
September 2016: David Copp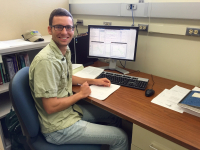 David Copp earned his Bachelor's degree in Mechanical Engineering from the University of Arizona. He began research there with CCDC alumnus Professor Ricardo Sanfelice who encouraged David to apply to graduate school at UCSB for his Master's and PhD degrees.
David is currently working with Professor João Hespanha on combining Moving Horizon Estimation with Model Predictive Control for nonlinear systems with output feedback. Together they have come up with a method to solve both the estimation and control problems simultaneously as a single min-max optimization problem. Applications include coordination of unmanned aerial vehicles for target tracking, estimation and control of an artificial pancreas for the treatment of Type 1 diabetes, as well as adaptive control of systems with model uncertainty.
Recently David participated in the Grad Slam, which is a campus-wide competition for the best three-minute research talk given by a graduate student. The competition allows graduate students to showcase their area of research as well as compete for a cash prize and a chance to represent their campus in a final University of California system-wide competition. After advancing through preliminary and semi-final rounds, David was selected to compete in the final round of the UCSB competition where he presented a condensed three-minute talk about his contributions towards a more effective artificial pancreas.
Outside of research David enjoys staying active, playing both basketball and ultimate Frisbee as well as hiking, biking and running. He currently lives with his wife Stacy in Goleta and plans on applying for postdoctoral research positions after the completion of his PhD.
Pages